🏆 #1 Speech-Therapist Recommended Audible Flashcards
🎓 Develops Speech & Vocabulary 3x Faster
👶🏻 Designed For Developing Young Brains
🤗 Fun, Educational & Interactive Play
Put Education Into Play! 
The SpeechBuddy™ is an interactive handheld toy for children that pronouces the word on the flashcard once inserted! Boosting your childs learning during playtime!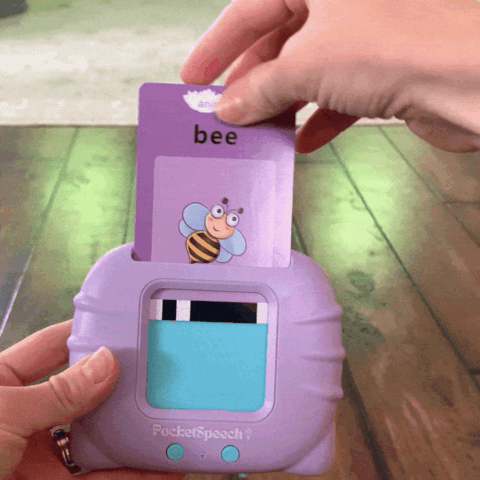 Turns vocabulary and speech into fun and interactive play!
Promote early brain development - by building stronger connection between words and concepts.
Accelerate your child's speech - absorb new words and topics 3x faster!
Secures your little ones future by reducing speech delay and disorders. 
4 Reasons Parents Are Obsessed With This Toy :
Learn with your child - Encourage your little one to practice new words. 
Independent toddler play -

 Keeps you child busy and leaning for hours.
Designed for small hands -

 

Made for simple interactive play out of the box.
224 immersive words - Explore topics that are relevant to their development. 
What's included?

Every Order Comes With A 60 Day Guarantee.

In your package:

1 x SpeechBuddy™
1 x Charging Cable
1 x 112 Cards with 224 Words
Shipping

All orders are fulfilled by tracked insured shipping.

Standard Delivery: 3-8 Business Days

Express Delivery: 1-3 Business Days
How does it work?

The SpeechBuddy™ is a fun, interactive educational device for your child to learn vocabulary!

Just insert one of the 224 cards into the SpeechBuddy™ and wait for it to repeat the word for your child!

This interactive toy provides an auditory experience for your child to effectively learn and retain new words.
View full details
⭐️⭐️⭐️⭐️⭐️

" My son loves this ! This is a great teaching tool for building language and word knowledge. The card reader fits easily in his little hands and provides a great interactive experience with learning new words. "
- Cindy, New York

⭐️⭐️⭐️⭐️⭐️

" I just purchased this as a birthday gift for my son to help him with his speech delay. We are seeing great progress and we are so happy to see him entertained with this as opposed to play with a smart device. "

- Nadia, Texas

⭐️⭐️⭐️⭐️⭐️

" My daughter is so amazed by this toy that she can't stop calling me to handle it to her. No kidding, it's super-entertaining and it's great she gets to learn too! "

- Megan, California
Accelerate Your Child's Speech Today!
SpeechBuddy™ - the toy that makes learning play-based and joyful for curious little minds!
With over 200+ words to strengthen your child's understanding between words, sounds and objects.
Frequently Asked Questions
How durable are the cards? Are they waterproof?

The cards are made with heavy-weight (350g) coated paper and laminated with thermoplastic film so that the cards are lightly waterproof and not so easy to be fold and tear up by kids. Giving you peace of mind when they're playing!
What type of words are on the cards?

The words are common objects that toddlers and children interact with every day, such as fruits, objects, vehicles and colors.
What's the recommended age range?

The SpeechBuddy™ is perfect for children between the ages of 1-4 and older if they are speech impaired!
How do I repeat the word multiple times?

Simply press the right sided button to hear the word again! You can press it as many times as you want.
How do I adjust the volume?

The volume button is located on the bottom left in the front of the SpeechBuddy™!
How long can it be used on one charge?

The SpeechBuddy™ can be used up to 6 hours with a single charge.
Is the SpeechBuddy™ available in other languages?

Currently the SpeechBuddy™ is only available in English! But please keep an eye out for new releases with expanded language.